I'm not a professional writer. No one is paying me to blog or to write. No one is giving me deadlines.
Well, no one outside my head.
In this day and age, everyone is encouraged to have a side hustle. And to monetize that hustle. When you're a writer, you're always encouraged to be working on your next thing.
What Writing Projects Does Morgan Have?
I've got:
my fantasy that I'm querying
the rough draft of its sequel, waiting for a final version of book one before I do any more
my middle grade contemporary fantasy that's in the middle of revisions
my genderbent Robin Hood rough draft, that doesn't know if it's a f-f romance or an adventure
my 80% drafted space fantasy
3 polished short stories
18 drafted short stories from my "NaNo of Shorts" — 50,000 words of short stories written two Novembers ago
random poetry, sometimes themed for Inktober
my weekly blog and vlog and podcast posts
Very little of it is in a finished state. Except, of course, these posts.
Where does this leave me?
Always feeling like there is work to be done.
That list I just went over? Doesn't go into my writing adjacent projects — beta-reading for friends, weekly author spotlights, slush reading for The Oddville Press, volunteering at science-fiction and fantasy conventions, helping with query rewrites, and running social media for several writing groups and an SFF club. There's a reason I use Trello to track all of my obligations. Plus, the monthly local open mic night for writers and the 2 weekly livestreams I'm usually on.
Oh! And my never-ending to-read pile. Both for fun and because you're supposed to know what's in your genre. And your writing is supposed to be made better by reading widely.
So. After months of making token progress on my space fantasy? I'm taking a break from my writing.
Not from the blog or the vlog or the podcast. Not from the weekly livestreams. Not from reading. Or any of the adjacent things. Not from querying novels or submitting short stories.
Just from the writing and editing.
Why am I taking a break?
And why just the writing and editing?
For starters, I like my social media followers and any missed week takes months to regain. I like having the satisfaction of an unbroken posting streak on my blog and vlog. And, most of the rest requires having an opinion, but not creating. Which is a lot less work, even if it is time-consuming.
Secondly, the writing and editing had turned into a drudge. Not in the "must-put-butt-in-seat to make it happen" sort of sense, but in the "I'm here because I blocked this time, but I'm really phoning it in." And that's not a mindset I need for quality work.
Thirdly, I struggle to focus on more than one personal project at a time. To be brutally honest, before I was writing, I hit the gym regularly. I lifted heavy weights. I was in the best shape of my life. I mean, in between binging World of Warcraft and Minecraft — I never wasn't a geek. After years of working on the writing thing, though, compounded by a pandemic spent working from home, 3 steps from my kitchen, where I could easily take under 1,000 steps in a day… my fitness isn't where I want it to be. So, I'm using my Oculus I got (myself) for "winning" NaNoWriMo to play Beat Saber, actually using the weights a friend gave me when their workout room became a nursery, and stopping with the snacking. Once my clothes start fitting again, it can be an activity and not a personal focus. But I'm not there, yet.
Finally? I fell behind on my 2021 goals. I've fallen behind before. But, there's one thing I've learned — if I spend the next month playing catch-up, I just get further and further behind. Many of my goals are based on what I can do on a good, focused month.
You know what online quotes reminded me? If you give your best every day, it's not your best. It's your average.
And I can't give my best every day.
When my writing starts to turn my everyday into this meme, that's not sustainable.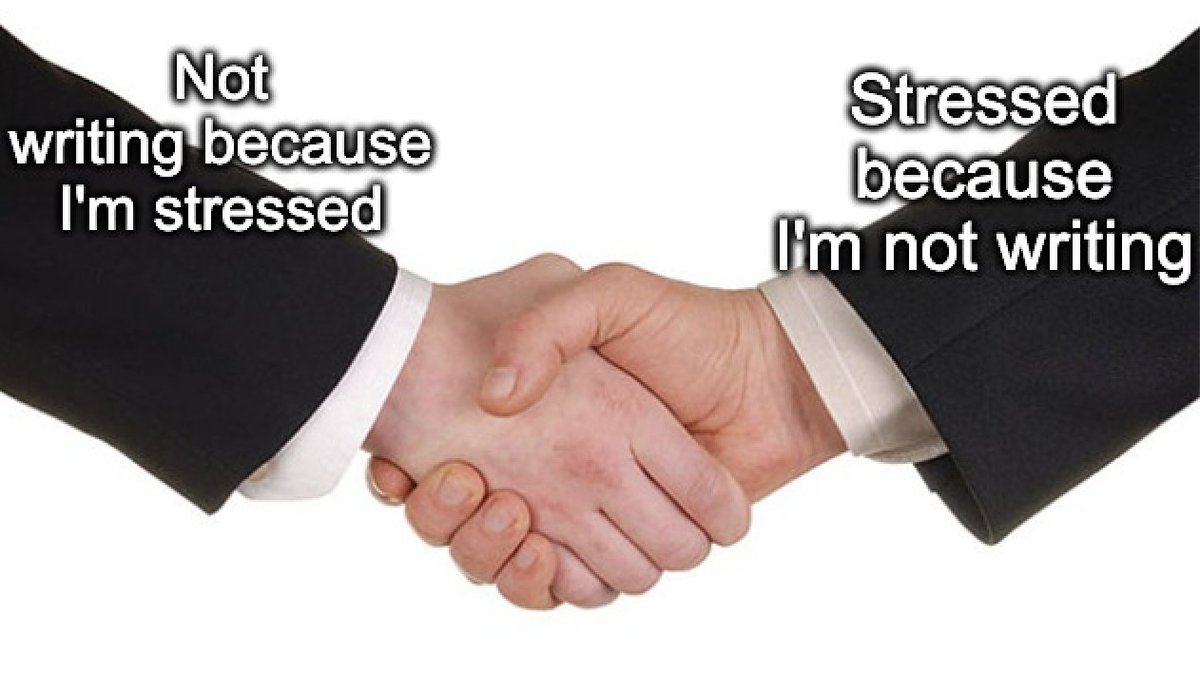 Looking For Boredom
For now, I'm trying to catch up on my reading, my beta-reads, and my slush reading. The main convention I help with is at the end of May, so my time will be increasingly spent on activities for it. A couple family members close to me are having/had babies this year, so family visits are happening.
I am the type of person who can fill her free time with projects. House projects, gardening projects, computer projects. With reading. With endless phone games.
By taking an intentional break, I want to catch up on all the things I let pile up that aren't writing related. I want to bask in my downtime until I start to wander around aimlessly, wondering what to do next, and not feeling like anything.
Then? When I go back to my writing, I'll be refreshed and ready.
---
How often do you take a break from your writing? Have you ever needed to?