I'm an unlikely person to compare writing to painting.
I've confessed in the past, but my imagination is far more conceptual than it is sensory. Imagery is almost more of flavors to my mind than a movie played out in my head.
To make up for this, I have a Pinterest board for all my characters, settings, and clothing. (I should probably make one for meals). I do a google image search on actors or models (I try to avoid non-public figures, because they haven't volunteered to have their likenesses used in media, and I feel a bit stalker-y even thinking about it.) Then, I just keep looking until I see an actor or place that looks 'right' to me.
Because of this, my writing can get sparse on description. Well, I describe the main character's emotional state, and physical reactions, and mental calculations. But? It's all quite a bit in her head and not so much outside of her.
So, to avoid my plot happening in a descriptionless void — otherwise known as 'white room syndrome' — I end up writing in layers.
Fortunately for my dreams of being a writer who creates breathtaking worlds, even experienced writers have confessed to writing in layers.
You start off with your draft looking sparse and clunky. (or over detailed in the main character's head) Then? You despair of ever measuring up to the writers you love.
But that's because, to quote Victoria Schwab:
And she's right.
---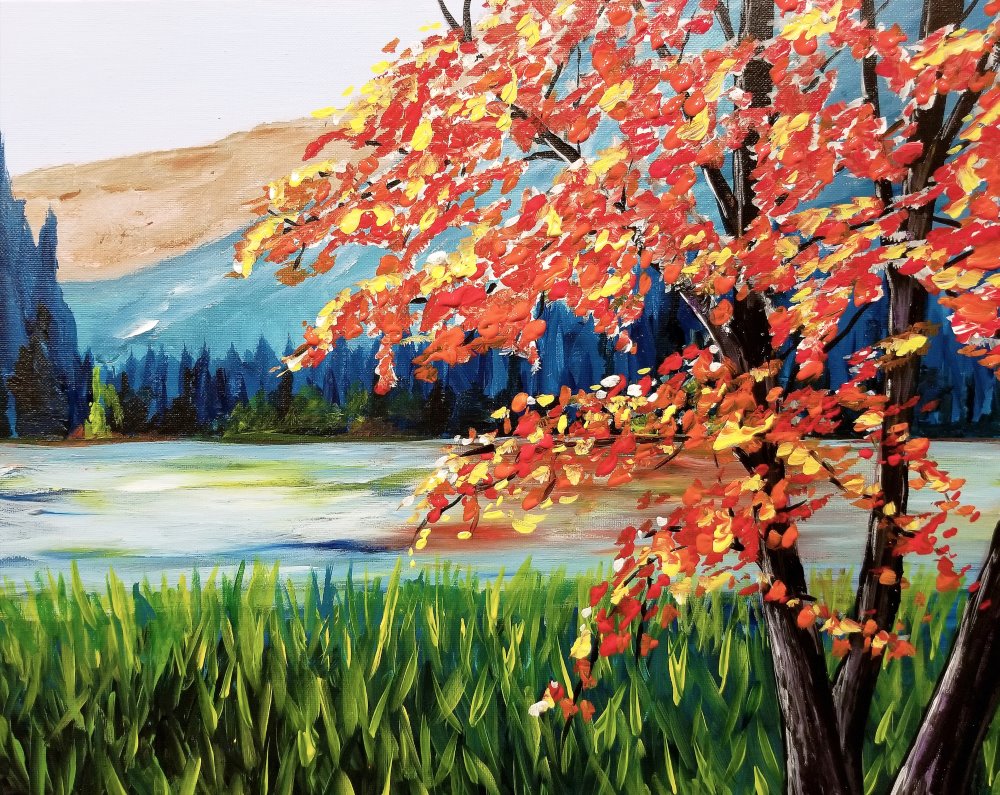 Several months ago, I went to a "paint bar" with my cousin. If you're unfamiliar, it's a bar where you reserve your table, and at the set time, a teacher leads you through creating your own version of the painting of the night.
Sort of like watching Bob Ross, only they have all the materials ready for you, and they've got plenty of snacks and drinks to keep you going.
That painting I made all those months ago? The instructor showed us how to fuzz out the reds and oranges, giving a haze that suggested leaves. But when I tried? I couldn't get the technique right and found myself adding far more detail than the sample image held.
Neither way is right, but the parts have to blend and meld and hold consistent. A painting where portions are in crisp clarity, and others are a fuzzy blend of colors, when done without skill or a plan, will look amateur and unpolished.
Luckily, this painting isn't something I plan on trying to sell. Plus, I only had 3 hours to get it right. With my writing, I get a lot more chances.
I recently sent off my first chapter to my new mentor. I thought it was ready for prime time, but with her fresh eyes? I can see where some parts of my story aren't crisp. I can see where the colors aren't blended properly.
Getting the balance between colors on a canvas is a lot like getting the balance between backstory and plot, detail and background.
So, I'm editing my manuscript. AGAIN.
I do worry that I won't be able to take all these lessons and attempts and turn them into a streamlined process. But? The only way to find out is to finish, then try again. And I'm determined to create a world that even the most visual-minded reader will find entrancing.
---
Are you a visual reader or writer?
If so, what do you find yourself layering into your writing? Or struggling to connect with in your reading?
If not, here's a hug for those of us trying to fulfill the expectations of the visual-reader. Let me know I'm not alone.