a writer of fantasy and advocate for following your dreams.
Readers, let's give a good, hearty welcome to this week's guest!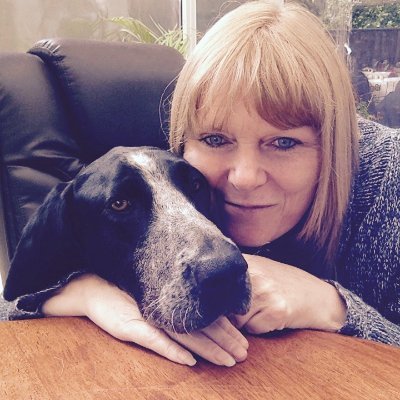 Cully is a fantasy lover and student of myth, so it's no wonder after completing her B.A. in English Literature and Creative Writing and her MA in Creative Writing, she combined the two into the Voice that Thunders epic fantasy series.
She resides in England with Leo her loyal four-legged companion who knows more about Gabe, Mirah, (and the rest of the characters mingling in Cully's head) than any dog should.
Cully, thanks for agreeing to be here today. Most interviews start off with the boring stuff, but I know what readers REALLY want to know.
If you could have any pet (real/fantasy/no-allergies/no worries about feeding it) what would it be?
Even with the option of any fantastical creature, I'd still choose a dog. Nothing compares to their unconditional love.
Too true! There is nothing like a sweet, ever-loving, devoted pupper.
What do you write? And how did you get started?
I write epic and high fantasy, fantasy romance, YA fantasy, speculative fiction and fairy tale, myth and legend retellings.
I started writing in 2012 after joining a local creative writing class. I remember filling in a character profile where I created Ammo. Right from the outset, he was cocky and confident. He's a flirt, a risk taker, does the jobs no one else can or will, morally grey, but has a code. He jumped right off the page. It was the first time I'd experienced a character coming to life. You could say, I'd caught the buzz, and soon after I returned to my studies to learn how to write. When I began writing A Voice That Thunders, he was the perfect candidate to aid my young protagonist.
Those are some of my favorites! I love it when I meet characters in my head that I end up loving.
What do you like to read?
My favourite genres are epic and high fantasy (although I read many others). I read a lot and books tend to blur. I need something which stands out and makes me remember it from the rest. Books which transport me from this world into other worlds are my favourite.
I prefer reading 3 rd person with multiple character points of view. I love character driven narratives. Show me the conflict (internal and external), the spectacle, the unique unpredictable plots.
A few of my favourite fantasy authors are Robert Jordan, Raymond Feist, Brent Weeks, Brandon Sanderson, John Gwynne, Jay Kristof and Patrick Rothfuss.
More recently I have been reading YA/NA and I like Sarah J Maas, Raye Wagner and Jennifer Armentrout.
I also love reading classics. Everything from Virginia Woolf to the Iliad.
I think you just set up a spy camera for my bookcases when you started listing authors!
Name one commonly accepted piece of writing advice that doesn't work for you.
Write what you know
I know nothing about immortals coming through portals to conquer human realms or how people lived before the birth of civilisation.
I research what I can. For example, what it was like living in Mesopotamia four thousand years ago. What people's beliefs, myths and legends were and how they affected daily life. How writing, metallurgy, farming, and medicine, etc, influenced cultural advancements.
Outside of research, the rest is pure imaginative speculation. I can write the psychological reaction of a human to certain circumstances because I can relate or find a human source to guide me.
How would a supposed god react to the same situation? Well… for that answer, you'll need to read my books.
Exactly my feeling! Speculative fiction writers always have to step into the unknown a bit, but as long as the humanity and the details are grounded in reality, the readers will let us take them away with us.
Name one commonly accepted piece of writing advice that they can pry out of your cold, dead hands.
Use adverbs lightly.

Stephen King
I totally (oops) get what Stephen King meant when he said, 'I believe the road to hell is paved with adverbs.'
I've put books down because of their overuse. I'm not saying I don't use them because I do – sparingly (oops, I did it again – starting to feel like a well-known pop artist). What I am saying is more often than not a stronger verb will suffice. It makes sense, doesn't it? To use a stronger verb than qualifying a weaker one. King calls them dandelions. One looks pretty and cute, but let them spread, and you see them for the weeds they are.
Purple-prose, overflowing with adjectives can slow the pacing and distract from the action. I definitely agree — cutting down on adjectives is useful. Make your verbs work harder — but that doesn't mean you should never use them.
---
Shameless Self-Promotion time!
The A Voice That Thunders series features siblings, Mirah and Gabe, who fight with the rebels against immortals conquering their realm in a pre-civilised world influenced by Mesopotamian mythology.
Enter a world where monsters crept into the realm, myth was born, and magic first breathed.
Mirah looks for the best in everybody. But her naiveté is shattered when her clan is slaughtered, and she's dragged into captivity. Vulnerable and scared, she has no choice but to accept her kidnappers' offer to join their sect of lethal female fighters.
Desperate to find stability in her chaotic new life, Mirah throws herself into training as a water mage and warrior. But as she discovers her unprecedented elemental control, her instructor warns that revealing her power will put her in mortal danger.
With the fate of humanity at risk, will Mirah's growing abilities spell her salvation… or destruction?
Filled with explosive revelations and betrayals where romances bloom and others are severed.
Not everyone once trusted is pure; not everyone once despised is vile…
The clash between darkness and light has never been more dreadful.
Sojin (Voice that Thunders Prequel)
Some dreams dig deep into the soul and never let go. They call for vengeance!
Sojin is a prequel featuring Ammo and Sojin, two side characters in the Voice that Thunders
series. It can be read at any point in the series.
---
Check Cully Mack out across the web!