Memorial Day weekend, I usually hit up Balticon, Maryland's regional Sci-fi and fantasy con, where I proceed to attend 30ish panels in four days, meet tons of people, and forget what sleep looks like.
This year is different.
In-person gatherings are banned. And? This time, I'm involved. A LOT more involved.
I felt a little self-serving when I decided on this topic for today's blogpost — but then I looked back and saw that I pretty much ALWAYS do a blogpost on the con I'm about to head to, so that part isn't out of my usual.
What IS different is I'm working on staff and I'm speaking on panels for this convention.
In case you're curious about what Morgan's been up to for the past month and half…
What Is Virtual Balticon?
Before I make this whole post about me, I should probably explain exactly WHAT Virtual Balticon is.
As I've told others:
Balticon is the Maryland Regional science fiction and fantasy convention, sponsored by the Baltimore Science Fiction Society (BSFS). Scheduled this year for Memorial Day Weekend, it has been held annually since 1966. Due to the pandemic, Balticon, unfortunately, could not meet in person this year. The good news? Balticon realized it could go VIRTUAL!
Balticon features discussions and presentations among authors, editors, publishers, artists, filmmakers, scientists, gamers, and, most importantly, fans.  
Virtual Balticon will have author readings, panels, and presentations; science programming, a film festival, watch parties, artists and dealers, a masquerade costume contest, plus, a variety of role-playing, video, board games, and more. You can find Virtual Balticon 54 on Zoom, Discord, Twitch, YouTube, and even Second Life.
My Roles At Virtual Balticon
I'd already applied to be a panelist when programming contacted me, asking for some input. Apparently, attending approximately 30 panels a year, then blogging about them, makes programming think you might have some ideas on panel concepts that work, panel concepts that don't, and which panelists are totally worth the hour long panel investment for attendees.
So, I attended several working meetings, tasked with data processing and helping contribute to wording panel descriptions.
Separately, my application had already been accepted to panel at the convention.
Then, 2 weeks after the COVID-19 shutdown, Balticon reached out to me and asked if I would run their social media.
They already — and still have — Matt, their social media director who works for the parent organization: The Baltimore Science Fiction Society (BSFS), but the burden to go virtual was more than one man could handle.
Running Social Media
For running social media, I mostly create images and posts for all of our accounts (twitter, instagram, many fb groups/pages/etc). I'm working on 100% consistant branding, but some things take time.
Other departments will let me know when an announcement needs to go out, and I'll make it. If people contact Balticon for details, I help draft the wording.
I've already started scheduling hourly posts to help people find the panels, presentations, and events coming up each hour when Virtual Balticon is in full swing.
I also recorded a "How To…" guide for each of the online applications Balticon is using, and am scheduled to address the technology basics for the Opening Ceremonies.
Our Technology
Since there was no one technological solution for creating this virtual convention, we had to pick and choose our tools.
For our panels, presentations, and many of our events, Shogren Productions donated use of a Business-level Zoom account. Because Virtual Balticon went free, and most of our donations are just going to help pay for the closed-captioning (1 panel per hour, unless someone wants to sponsor us at $2,000 per additional panel/hour), we'll only have 5 webinars running at a time — so the typical Balticon schedule was cut drastically.
Attendees will have to register here for each event separately, but by using Zoom webinars, we can keep out trolls and bad-actors, and add security to the panel. This does mean that all the people watching can only ask questions via the Q&A window, but all the side comments people love to make? Book suggestions and more? There's no reason not to toss those all in the attendee chat!
We're using Discord for most of the "convention hall" space. The Dealers Room, Artists Alley, and Fan Tables can be found there. Plus, the Consuite, after panel break out discussion rooms, tons of gaming rooms (this is Discord, after all), and more. [The gaming can be signed up for here]
Two panels per hour will be livestreamed to either our Youtube [BaltimoreSciFi] or our Twitch account [twitch.tv/bsfsBalticon], with the rest of the recorded panels to come (once we get them closed captioned, using volunteer labor, rather than the paid stuff). Sunday and Monday, you'll find our Film Festival on there as well.
And, for those on Second Life, or who create a free account, you can join our "Balticon 54" group, and hangout at Balticon station. Many of vendors will also be found there, as well.
All The Training
Now, these technologies are all well-and-good but… before we can run stuff with them, we need to make sure we have enough staff TRAINED.
We need to make sure our panelists can ATTEND.
So, in the transition from physical con to virtual con, the panelists we had space to bring over all had to go through a zoom test session, to make sure they had the audio, video, and internet capabilities to make it even possible.
Matt, BSFS's Social Media Director stepped up to become our VirtualCon Platform Admin/Expert, helping shepherd us through the process.
We've been running 3 practice panel sessions every Monday, Wednesday, and Friday for nearly a month to give both our technicians and our panelists opportunities to practice.
One of our artist alley members, bluestonearcher, joined the discord server early and offered to help me make some promo pictures. 2 days later, his teaching background had him volunteering to help run our Zoom training and lighten the load on our VirtualCon admin, taking over those 9 practice sessions a week!
For our Discord Servers, I've run 4 training sessions for our Moderators and Admins. I've drafted guides for our Vendors, Artists, and Fan Table guests.
Not to mention, of course, all the tech trouble-shooting I've done, including three 1am sessions with my dad, helping him try to get a very old, donated web camera working on a linux system. So far, we've got the driver installed, the camera working, and the camera option enabled in zoom. Next up? Sort out why the video is blank — but only in zoom.
What Morgan Will Be Up To This Weekend
Working
I will be on discord all weekend, both as admin, and because I'm a chatty sort of person.
Attending panels
If you've been following me for a while, you've probably noticed I have no sense of my limits when it comes to attending panels. I've signed up, just like a regular attendee, to see 28 panels. (I thought it was 22, but I'd miscounted.)
Since I often take copious notes at the writing panels, I didn't want to run tech while watching those panels. However, I did review my schedule, and for the fun-to-watch, but maybe not 'informative' ones, let the tech team know they could schedule me as a backup technician. I did take the training after all.
Being ON Panels [the other side of the table!]
And lastly, but CERTAINLY not leastly, I'm going to be on THREE panels. I'm even moderating one of them – my first time moderating a live panel, and my second time ever being a panelist at any convention.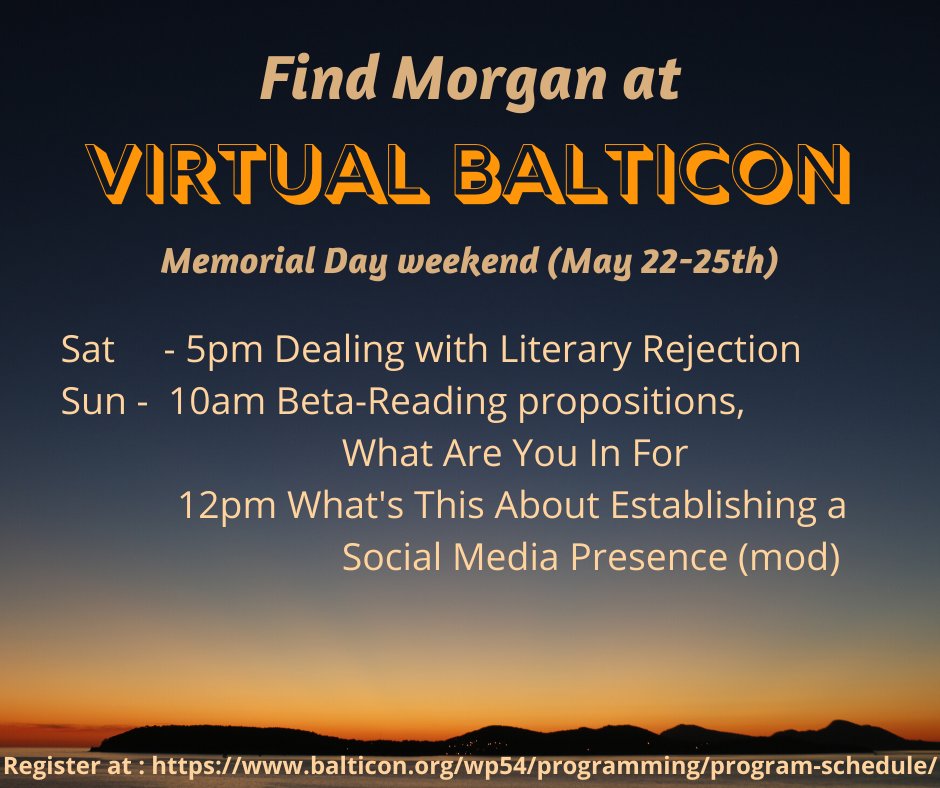 ---
I hope all of you are planning to have a safe, but fun, and relaxing weekend. And please, feel free to check out balticon.org to find out all the stuff we have planned and scheduled. Let me know if you have any questions… it's literally my (unpaid) job.
I'll be back again next week, with more writing tips and writerly musings. Most likely? The Balticon post-con mortem.